Who says a quilt block has to be square?  I was looking at the Disappearing Nine Patch block again, with the idea of making another of my own Variation in pastels, when it occurred to me that there could be another possibility.  What if another square was added? The result would be a brick shape, and may be interesting.
I started in the usual manner, constructing a nine patch block using 5 inch squares.
I slashed it in both directions through the middle.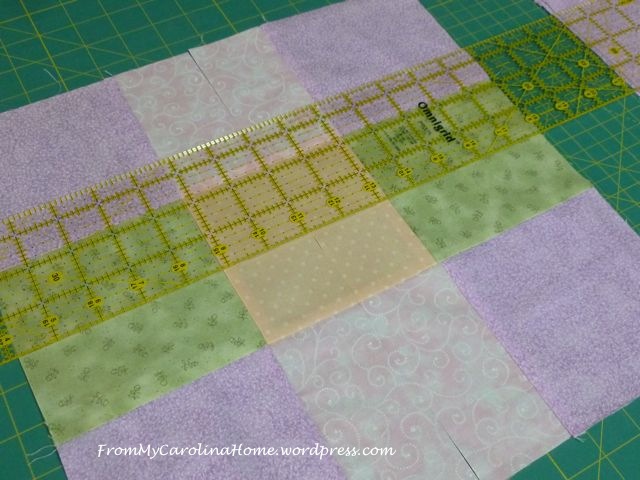 I rotated the upper left and bottom right sections per the usual manner.
Then I set out the top two and bottom two together, keeping the side to be sewn on the right. I made four blocks at once.
Chain piecing per usual.
I set out the top and bottom sections together, with the four stacked on top of each other.
Then I cut eight 7-inch squares out of yellow fabric.
I offset the top to the right and the bottom to the left, and place the yellow squares in the spaces created.
They were sewn together.
I set the bricks together, and it made a small quilt with just four. I think this could be very interesting with a large print for the square tiles, and lots more bricks.
This size was good for a lap quilt, so I added a border in cream.
Then it was loaded on the quilting frame.   A bow pantograph quilting design was stitched on it.
Sweet, isn't it? I don't often get a chance to use this pantograph.
Finished and bound!
I'll have to show it around a bit before it gets donated.
It was so easy and fast, I really should make several more. These would make nice lap quilts for the veterans, or people in nursing homes. They are just the right size for wheelchair use.
Click on My Craftsy Patterns to get a free downloadable pattern for Stacked Bricks.  I hope you will take a look at my other patterns while you are there too.  And, to see another one of my design with a directional print, click HERE.
Are you doing any charity quilting now?